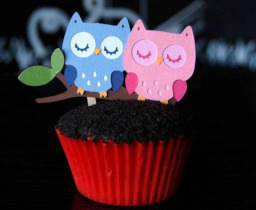 "Logic!" said the professor. "What do they teach in school these days?"
A cupcake. Twilight Sparkle. A simple thought.
What could possibly make this an interesting story? No... it's not grimdark. Shame on you.
Twilight delves deep into the heart of Logic in order to determine whether it is ethically right to eat a cupcake. Drink coffee before proceeding if you are prone to headaches. A thanks goes out (from me...) to the people who make my life as crazy as it is. It's tagged as comedy because my mum thought it was funny.
Do enjoy yourselves.
POST MORTEM: Also, be sure to check out the companion story, Sweet Nothings. Read them in any order or both at once.
Chapters (1)