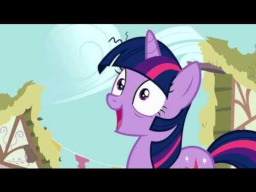 "My most faithful student," Twilight Sparkle prepared for her mentor's inevitable question, though to be honest she had no idea as to what it would be about. Well, whatever it was, the Element of Magic was completely prepared for whatever the Princess could metaphorically throw at her.
That is, until the words that formed the question made themselves known to the world.
"What is the air-speed velocity of an unladen pegasus?"
Now, with only a day to figure out the answer to her problem, what will our purple protagonist do to figure it out?
Chapters (1)