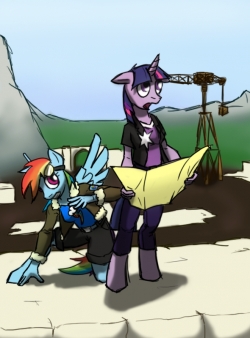 Source
This story is a sequel to Harmony's Wrath
---
Warning: This story is a sequel to Harmony's Wrath. This is an Alternate Universe, many elements of the setting have changed drastically, and won't make sense if you haven't read it. Even the cover picture. IT IS ALSO, LIKE THE FIRST ONE, REALLY OLD WHY ARE YOU STILL HERE
Six months on from its rude awakening, Equestria is still dealing with the fallout. Daily life has changed irrevocably, and it's only a matter of time before the dangers of the real world inevitably rear their ugly head. Twilight Sparkle and her friends are taking the lead in preparing ponykind for its trials, but some unusual reports from the outskirts of Trottingham lead them to believe that the world might be a lot wilder than they had anticipated.
Cover art by me and prequel by me.
Tag update: Reduced character tags to Mane 6, CMC, Twilight Sparkle and Rainbow Dash. While the Mane 6 and CMC provide most of the ensemble cast, Twilight Sparkle and Rainbow Dash are the primary viewpoint characters.
Additional Tags: Anthro, conspiracy, high fantasy, gryphons, war.
Chapters (27)