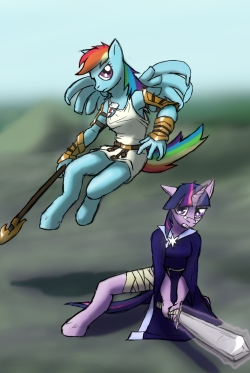 Source
Note: This was originally written between Seasons 1 and 2, and may ignore conflicting lore established by Season 2 or later. THIS IS REALLY OLD WHY ARE YOU STILL READING THIS
Twilight Sparkle and her friends are snowed into the library one evening, and they happen upon that rarest of specimens - a book Twilight doesn't recognise. However, the ancient tale of adventure and intrigue they find inside ends up shattering their worldview and sending them on an adventure of their own.
This is basically what came to my mind when I heard that Lauren Faust's original concept for the show was of a more arc-based, magical girl style (this turned out not to be true, but my mind ran with it anyway), but this story ended up a long way from magical girls and well into high fantasy by the time I started writing. Also draws on select Homestuck and Dungeons & Dragons themes, and plays with a lot of things the canon leaves unexplained.
Tag update: Reduced character tags to Mane 6, CMC, Twilight Sparkle and Rainbow Dash. While the Mane 6 and CMC provide most of the ensemble cast, Twilight Sparkle and Rainbow Dash are the primary viewpoint characters.
Additional Tags: Anthro, conspiracy, high fantasy, gryphons, war.
Chapters (34)