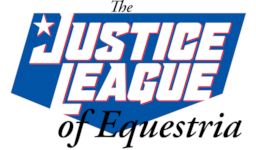 The Mane Six might be Equestria's greatest heroes, but what if they were more? What if they were SUPER-heroes? In this universe, the Mane Six (and others) are all portrayed as various superheroes from the DC Universe. This anthology of stories will be introducing the heroes one by one, you will witness their creation, their solo adventures and eventually their first time uniting in defense of Equestria.
The anthology begins with:
The Batmare Volume 1: Batmare Begins! Starring Twilight Sparkle, Spike and Trixie Lullamoon
The criminal organizations of Manehattan have been under attack by a mysterious assailant set on tearing them down and bringing them all to justice! But as the battle between the criminal elements of the city and the shadowy vigilante reaches a critical point, a new threat emerges, the likes of which Manehattan has never seen before.
The Mare of Steel Vol. 1: A Pony of Two Worlds (Starring Applejack and Filthy Rich)
The last remnant of a dead world and a gone civilization landed on Equus next to the home of a humble apple farmer family. Gifted with incredible powers, which she wants to put in the service of ponykind she eventually sets out to discover her origins and find her true place in this new world. But what happens when she meets the worst this world has to offer?
Chapters (7)