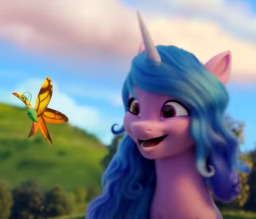 Izzy Moonbow has always wanted to make new friends. So, when she finds a letter saying that she's got some in Maretime Bay she's ecstatic. Eventually she decides that it's time and she embarks on an adventure in search of new friends. What could go wrong?
Everything apparently...
---
Hey so the G5 movie has come out! I've made this short little story as a tribute to its release. I liked the movie overall. I had a few problems with it, but I really liked it none the less. I definitely like it more than than the MLP FIM G4 movie (I liked that one too, but I like the G5 movie better). I hope all of you liked it too, and I hope you like my story! Would love to hear your opinions on the movie and my story in the comments.

Chapters (1)