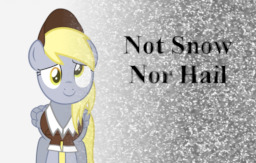 Just because the world is ending doesn't mean Derpy doesn't have a job to do.
Written for the Publish-a-Story speedwriting contest on the Quills and Sofa server, where the prompt was "End of the World". This story placed second.
Much thanks to the pre-readers, applezombi, AshleyNoble, Exodd, and the ever-supportive Holtinater!
Chapters (1)