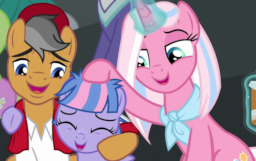 Source
Hearth's Warming is just around the corner, which for Quibble Pants presents a bit of a dilemma. It's his first Hearth's Warming with his new family and he's desperate to find a good present for Wind Sprint.
Once again he decides to call on the help of his friend Rainbow Dash, this time paying her a visit in Ponyville in the hopes she'll be able to help him out. And lucky for him, his friend has some time to spare.
Can Rainbow Dash point Quibble in the right direction again? Or this a dilemma that Quibble will have to figure out on his own?
Chapters (1)