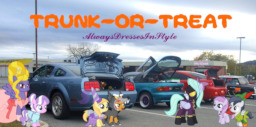 This story is a sequel to Filly Cheesesteaks
---
In Equestria, it's Nightmare Night. On Earth, it's Halloween. For ponies on Earth, adapting to Halloween wasn't difficult. Costumes, spooky decorations, and candy? They may have a different name for it, but it's celebrated very similarly in both our worlds.
Trunk-or-treating? Okay, that's a new one for the ponies.
Trick-or-treating antics with a trio of rambunctious fillies. And Minty. Expect a corn maze and even cornier jokes. Some of which are actually about corn.
Additional tags: Self-Insert & Trixie
While this is a sequel to Car Wash and Filly Cheesesteaks, it's not necessary to read either of those stories first.
Written for Admiral Biscuit's challenge/request for more slice of life fics featuring ponies working on Earth:
https://www.fimfiction.net/blog/869870/story-notes-labor-day-plus-a-challenge-to-readers
Pre-read/edited by Admiral Biscuit
Chapters (1)