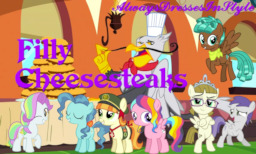 This story is a sequel to Car Wash
---
Coconut Cream started working a new job in Philadelphia at Gustave Le Grande's Filly Cheesesteaks, and I just 'volunteered' to drive Toola Roola to Philadelphia to see her best friend. Me and my big mouth.
At least I like cheesesteaks...
A sequel to Car Wash, though this is a stand-alone and it's not necessary to read that story first to enjoy this one.
Written for Admiral Biscuit's challenge/request for more slice of life fics featuring ponies working on Earth:
https://www.fimfiction.net/blog/869870/story-notes-labor-day-plus-a-challenge-to-readers
Additional tags: Gustave Le Grande, Tag-A-Long, Rainbow Harmony, Spur, & Tornado Bolt
Pre-read/edited by Admiral Biscuit
Chapters (1)