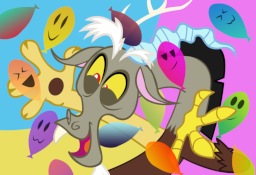 Source
Discord finds himself in a dilemma. It's his birthday today, and he wants someone other than just Fluttershy to celebrate it or Princess Celestia to host it. So, naturally, he bugs his most of his other friends and asks THEM to help, finally revealing the date of his birth...sort of...
For some reason, he is not being much of a troublemaker during the planning of his party. I guess the memories of the date of his birthday bash reminded him that he still has a quite soft spot for Celestia...
---
You: "Woah? Is that YOU?!"
Me: Yep, I'm finally back and ready to hopefully upload every two weeks. You can hold me accountable if I don't...
(8/9-10/20) I worked on this from 10:30 pm to 5:30 am, and 10 am to nearly 2 pm - I'm tired, sorry.
This story is a part of a new Next Gen series!
Sigh...this is the WAY-too-late Valentine's/Easter/April Fools Day special! Enjoy!
Cover art origins...: Right here.
The Pokemon art I promised since I'm trying to upload my artwork more as well. Part 1: Here!
Part 2 of the Pokemon Artwork: Here, here!
Chapters (1)