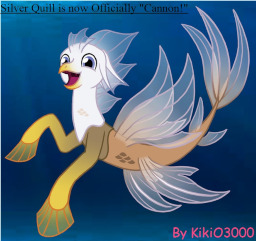 Silver Quill finds his way into the show from a portal in the Brony hangout called the Rift. He then finds that there are actually real seaponies under the sea - even in the land of the Hippogriffs.
Pinkie Pie helps him find his family's birthplace where the Seaponies are actually Hippogriffs. He feels very misplaced to be accepted back into Hippogriff society, but a young and smitten princess becomes a light in the darkness.
Randomness, snuggles, and fluffy cuddles ensure.
---
Warning: Some Mlp Movie and Brony Reviewer spoilers! :D
Also, lots of fluffy moments, a few sentimental feels; and amazing cuteness! :3
New Cover Art is by this person, Starbat :).
Old Cover Art ART is by THIS person. I may upload my own cover art for this soon, either in the story or on the story's picture.
Written as a SILVER QUILL X Princess Skystar fluffy and snuggly cuddle-fic for THIS user and THIS...CONTEST. Have fun!

Enjoy! Please support the MLP Movie, Silver Quill, and these amazing artists! :D
Chapters (1)