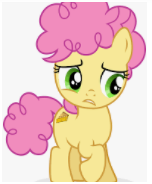 At first, Lil' Cheese does not like his Auntie Maud. Maud wants to change her nephew's perception of her.
Maud and Lil' Cheese finally find common ground, and Lil' Cheese learns that Maud rocks.
This is a random idea I came up with since I wanted a unique idea for the contest. Then I realized that I wanted to write more stories for Lil' Cheese! Then I realized that Maud and Lil' Cheese's dynamics could come together! Haha!
...
(The cover art is from Google, and I think it was made with a base.)
For Bike's Maud Contest! (I will link to it later.)
Warning: Rock puns! Please look at THIS so you understand which "typos" are actually puns that cause the sentences to look mispelled/to get an idea of how to read these sentances.
Thanks for reading!
Chapters (1)