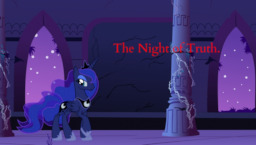 One night, just a few days before Princess Twilight Sparkle's coronation as ruler of Equestria, Prince Alfred summons Princess Luna at the "Castle of The Two Sisters" for a delicate talk with her; this would be the last night he would have lied to her since what she deserves is only the truth.
---
Part of the "Alfredverse".
Special thanks to Player 4 for helping with a few ideas and concepts for this story.
Chapters (1)