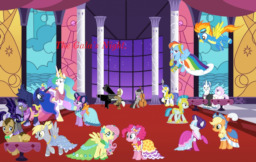 "I always wanted to sing this song for the very first moment I thought about... her. Now, on this very night, I would like to dedicate this song to that very special pony in my life... This is for you, my love."
---
Alfred has avoided attending the gala for many years with the same excuse, but after Luna resumed her role as Princess of the Night and Queen of Dreams, the human Prince is finally left without a "reason" to not be part of the celebration.
He had other reasons for not attending and, although Celestia knew very well, the Princess of the Sun managed to convince him to come and accompany them all.
---
Stories part of the "Alfredverse" as well:
- "The Weeping Winter" (The very first story, chronologically).
- "The Night of Truth" (The first story I wrote about this "universe").
- "A Heart's Warming Eve Gift" (Direct Sequel to "The Night of Truth").
1st P.S: Special thanks to MisterEdd and cinos0 for helping me by reviewing the chapters.
2nd P.S: Please, first read the story before judging it only by its cover. Once you did that, you may judge it and comment if you liked it or not and why. Thank you.
3rd P.S: Corporal Hook OC is given by JimmyHook19, and yes, this character is very important for the "Alfredverse".
Chapters (11)