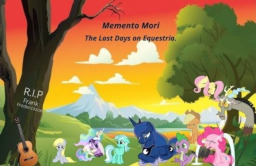 Frank Frederickson, known as the human who arrived at Equestria and revolutionized music, besides having befriended a particular group of ponies and other mythological creatures, begins to live his last days on Equestria after knowing he'll die. At the same time, he'll make the most effort to amend some errors from the past.
---
Authors Note: This is my last attempt of writing a story here, in FIMFiction. Please, don't be like other occasions and give this story an opportunity before judging it.
P.S: "Human" tag because of the principal character, who is the OC of this story.
Chapters (4)