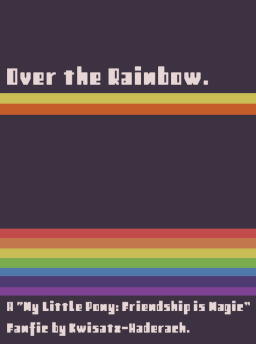 Now with its own sequel! (http://www.fimfiction.net/story/62215/Hybrid-Rainbow.)
Rainbow Dash is one of the seldom few Ponies who know she's a lesbian and due to painful memories dating back to her time in High School, she plans on keeping it that way, bottling up emotions deep inside her. Unfortunately, mating season has started today and tonight's the big night: Her Wonderbolts initiation party! What is she going to do? Will she continue to keep all these turbulent feelings inside her like she has every other year? Will she be able to keep her cool in front of her idols, if not her hero, Spitfire? Will she seek help from her friends in this time of need? Will she have the courage to finally come out of the closet? And will she be able to conquer her fear of feelings and explore the eldritch, terrifying vistas of this terrible ancient power called love?
Read inside and find out!
RATING WARNING: There is no explicit sexual activity in this story. However, the dialogue gets remarkably suggestive at certain points. Viewer discretion is advised. Read it, it's funny.
Cover art by moi.
Chapters (15)