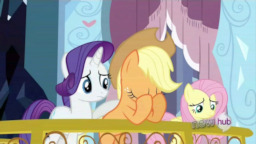 Applejack is writing student report cards. The guidelines say to be positive. Her heart says to be honest. One or the other would be simple enough. But both at once...?
This was written in an hour for GaPJaxie's Quills & Sofas Speedwriting Competition, for the prompt 'Technically not terrible.'
Thanks to NaiadSagaIotaOar for reading this through and to horizon for pointing out some issues with it.
The original submission was 817 words, so I spent another 20 minutes today adding a bit more to it to bring it up to publishable length and address some of horizon's concerns.
Chapters (1)