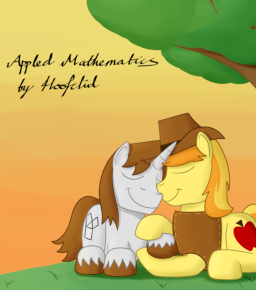 Hey there, Braeburn. Sorry to hear about your troubles finding a colt to settle down with in Appleloosa, but I reckon I got just the thing! I know a unicorn named Hoofclid who ain't had much luck finding a special somepony either. He's about as far from a farmer as you can get, but he's cute as anything and I've got a hunch this could work if you give it a try. Why don'tcha come on over to Ponyville for a week so you can meet him?
Looking forward to it already! Love, Applejack
---
A fluffy illustrated romance story based on my comic blog, Hoofclid and Friends. Many thanks to Krickis and TallFry for proofreading and encouraging me to post this here.
Chapters (1)