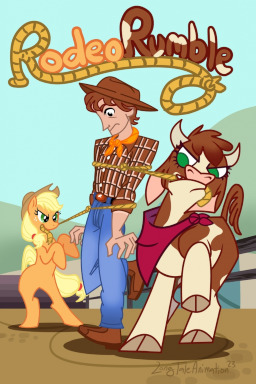 Source
Equestria is hosting the International Rodeo Games with Appleloosa as the hosting city. Many species from all over the world travel to the small town, some even as far as Foenum. All of it for the chance to win money, ribbons, and fame. While Applejack originally joins for the benefit of the Apple Family, her priorities quickly change.
A handsome, human cowboy named Clyde is introduced to her by Braeburn. The two get along well, and Applejack quickly is smitten by the upstanding, honest man. She plans on winning his affections with the hopes of taking him back as her husband. There's just one problem...
A cow named Arizona, Champion of the Prairie and one of the saviors of the Foenum, takes a strong liking to the same cowboy. She hopes to make her Ma and Pa proud taking back not just fame and money, but a husband to boot!
The two quickly catch onto each other's plans and try to undermine each other. Things quicky spiral out of control, and with neither backing down. They agree to a solution; a one-on-one fight, with the winner taking the man. Only question remains: Who will win? The Mare or the Heifer? And does the man get a say at all?!
T for fighting, possible swearing, non-consensual romantic pushiness, and mentions of interspecies love and pregnancy. No rape or clop will be shown, a simple girl vs girl fight over a guy.
Cover Art by LongTaleAnimation
Chapters (13)