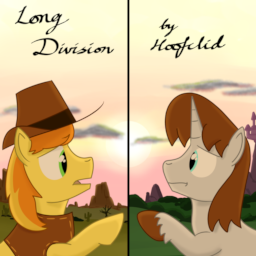 This story is a sequel to Appled Mathematics
---
Distance is the worst.
Braeburn loves his new coltfriend and just wants to spend his days cuddling and talking and playing with him. Only one problem: he can't. His coltfriend is far away in Ponyville, and most days must be spent apart. Will he have to choose between the hometown he has worked so hard to build and the stallion he has been smitten with? Can a town really be home without the pony you love?
---
A short fluffy romance story based on my comic blog, Hoofclid and Friends. Illustrated by the author. Thanks to Krickis, Gowak and TallFry for proofreading.
Chapters (5)