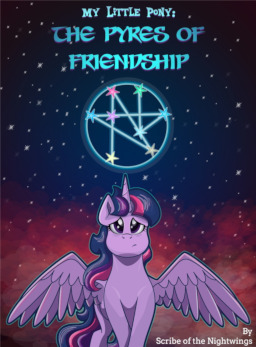 When Twilight awakes in a land that is completely unfamiliar to her, she meets three strangers that will help her if she helps them to their freedom. Along the way, Twilight will come across new friends and enemies and eventually find that her other friends made it to this strange land as well. Will Twilight and her friends be able to find their way back to Equestria, or will they be forever doom to the Downside?
Let the Rites begin!
(Basically this is crossover fic of how Twi and the gang would react to the events of the game, Pyre)
All rights to the MLP characters used for this fic go to Hasbro.
All rights to the Pyre characters, environments, and music used for this fic go to SuperGiant Games.
Cover art by the awesomely talented Little Tigress
Expect regular updates, with up to a month or so.
Chapters (19)