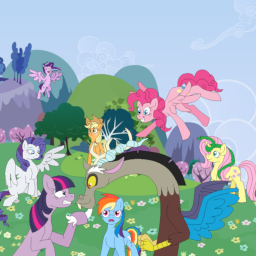 Discord gathers the Mane 6, Starlight, and Spike together for a single reason. Pinkie dared him to switch their races around for a day. So he does. Hilarity ensues.
Join the fun as they go through twenty-four hours of weirdness. Twilight fights doors, Applejack fails at apple bucking, and Starlight's newly acquired alicorn magic goes to her head and she attempts to stage a hostile takeover of Equestria. And so much more! And if you're wondering about Spike? Let's just say he's gotta go fast.
---
I felt like writing something silly and this is what I came up with. I'll be honest I kinda lost steam toward the end and the whole thing might be pretty disjointed but... I had fun and that's what matters. I hope y'all enjoy it too. Cover art by me, except for the background which was nabbed from a collection of show backgrounds. Because I'm lazy.
Chapters (1)