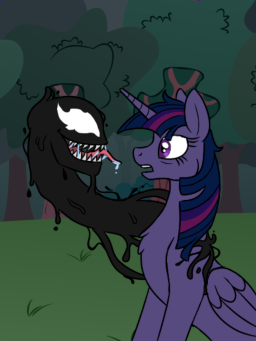 Source
The Life Aura Center is one of Equestria's top medical research centers, the producer of spells and medicines that have cured many once-fatal illnesses, and they continue to produce quality technology and cures. No one wants to think that they're doing anything unethical, but Celestia has her suspicions, so she sends Twilight to investigate.
One symbiotic pairing with an alien later, Twilight realizes Celestia was right to be suspicious. Now, working together with the strange creature inhabiting her body, Twilight will have to expose the center's shocking truth. And not get killed in the process. It's gonna be a wild ride.
---
Now with an audio reading by Mr. Snarky on YouTube! Please give him your support!
Part 1 Chapters 1-4
Part 2 Chapters 5-12
Part 3 Chapters 13-19
Part 4 Chapters 20-25
---
I also have a Discord! Rather quiet right now but feel free to join if you wanna talk fics or just ponies in general! Ask me for the link if you want in, I had to remove it because of too many spam bots.
---
Like my content? Buy Me a Coffee!
Chapters (25)