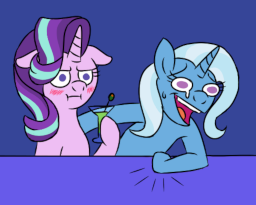 Source
Starlight Glimmer is quitting her job as school counselor to travel Equestria performing magic shows with Trixie. She really wasn't expecting to have such a big going away party, but she's thrilled to see how many people are there to support her. Twilight invites members of the audience to talk about Starlight... and then the fun really begins.
Featured on 07 August 2018! Thank you so much!
I also did a reading of it on YouTube! Here!
---
This is part of the Like Fireworks in the Sky universe but that fic is not required reading for this.
Chapters (1)