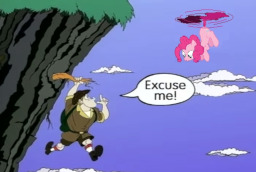 Our hero, Cliff Hanger, has been hanging from a cliff for who knows how long! As he grasps onto a solitary root to save him from certain doom, help arrives in the form of a small pink pony.
Are Cliff's days of hanging from the cliff over at long last?
---
So I was just going about my day, when I just spontaneously thought back to my childhood TV shows that I watched religiously. Among these was "Between the Lions" a show that taught kids how to read and encouraged them to read as well. While I don't remember too much of it's content, one of the segments of the show, "The Adventures of Cliff Hanger" had always stood out to me. Why it did, I'll probably never know fully; but as a quick YouTube search showed me, most people seem to have fond memories of Cliff Hanger.
For those who don't know, the entire setup was that: Cliff Hanger desires to escape the cliff that he's found himself hanging from the side of. As he dangles over the abyss, he either notices something above or below him or an event happens to change his environment. After consulting his Survival Manual he makes an attempt to escape using his surroundings to his advantage, only for his plan to backfire in some manner, returning him to his original position on the cliff.
So I was remembering how much I loved it as a child when I thought, "I wonder how ponies would react to Cliff Hanger's predicament."
And thus this story was born.
I hope you all enjoy. ;)
- Kir B
Chapters (1)