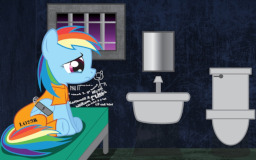 Source
Chancellor Neighsay sees his opportunity to shut down the school and sues after Applejack and Rainbow Dash endanger students. Things go horribly right and, soon enough, the two are to become the first executions in Equestrian history.
Their friendship is about all they have to keep them sane.
Warning: Very grim and things will get rather nasty; things aren't gonna go well for most ponies, and that toilet isn't just for show.
My first attempt at a teen rating, as well as serious shipping and death. Well, that didn't go well, rewrote from scratch as a new story with a less chop-happy premise.
Chapters (4)