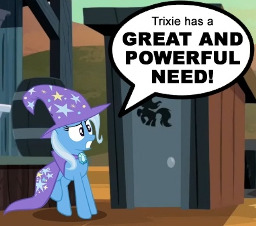 Source
The episode was okay, but it had a lot of...unusual choices, from the sleeping arrangements in Trixie's wagon (hammocks sandwiched by stuff on both sides is inefficient even if the wagon's bigger on the inside) to the huge deal about being thrifty with food combined with buying premade luxuries instead of bringing any.
And Trixie not having to pee in a multi-day staring contest joke? That's just a waste of comedy potential.
It's so bizarre that an episode specifically about uncomfortable lack of privacy/luxury and needing to scrape by on food seems to take place in an alternate universe where ponies' only problems with those are that they're noisy sleepers and want fancy cakes.
Here's a more realistic telling of events. Caution: Toilet humor ahead, obviously.
Chapters (3)