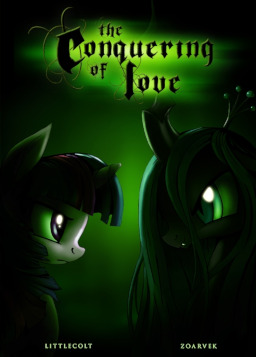 Source
Twilight Sparkle finds herself inside a cocoon in the throne room of Canterlot Palace along with her friends and many other ponies. She is thrust into a dream world by Chrysalis who is feeding on the feelings of love and friendship she and the others will experience in their alternate realities. In her dream, she finds Princess Celestia, who has been able to cross between dream worlds. Twilight and Celestia must now travel between dreams in order to awaken their friends and stop Chrysalis. However, some dreams are not as happy as they expected, and some secrets held in the subconscious may be better left unawoken.
Additional character tags: OC's, Princess Cadence, Shining Armor, Princess Luna, Nightmare Moon, Trixie, Zecora, Diamond Tiara, Snips, Flitter, Cloudchaser, Roseluck, Big Macintosh
Inspired by the fan video of an alternative ending of season 2. Click here to watch it!
Featured on Equestria Daily 9/14/2012.
Now a comic illustrated by Zoarvek! http://zoarvek.deviantart.com/gallery/48143295
"Sex" tag added on 10/12/2014 due to sexual themes here and there. It's not the focus of the story, but it's in there. For a more detailed explanation of why the tag was finally added, see the author's note on "Corruption Ch 10"
Old cover art here: http://i.imgur.com/Tgt974q.jpg
Full size: http://i.imgur.com/9uWAX.jpg
Chapters (56)