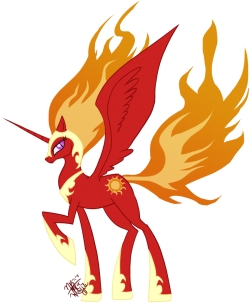 Twilight Sparkle is the prized student of Princess Celestia, two-fold champion of Equestria, bearer of The Element of Magic, and general mare of renown. But we are all a product of our history and Twilight, along with the whole of Equestria, is no exception. When she is asked by Princess Celestia to look into an strange new field of magic, our studious heroine will get to learn first-hoof just how fickle history, and how important its quirks, can be.
I got this idea after cruising DA and seeing that there was a rather appalling lack of Solar Flare fan content. Since I'm about as talented at visual art as Stevie Wonder, I decided to go with the written word as my medium. Also credit to http://emeralddarkness.deviantart.com/ for the cover image
I'd really appreciate feedback on how I can keep improving, so feel free to point out any errors in the comments. I'm looking forward to continuing this story despite my poor work ethic, so updates might be a bit slow. Regardless, I hope you enjoy what i have so far.
And with that I proudly present, What Might Have Been
Chapters (17)