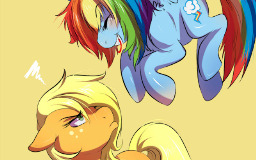 Rainbow Dash has always had her head in the clouds, physically, but is always brought back to Equestria by the no nonsense common sense attitude of her best friend, Applejack. This story is an AppleDash fic, and takes place after the Season 2 finale of MLP:FiM.
This is my first fanfic ever, so feedback is most welcome!
(image by Tartii at DeviantArt seen here: http://tartii.deviantart.com/art/Ponytail-291577879)
*This is Book 1 of the LotusVerse.
There is a sequel to this book: Saddlebags, Sun, and On The Run (Book 2)
Chapters (12)