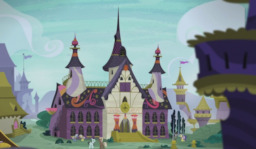 Source
Teachers. Mystical creatures that seem to have only one purpose in life; torturing students by trying to cram some information into their little heads. Many many myths and legends surround their lair. Is it true that they really change into normal ponies in there? Intern Cheerilee can now find out.
So... welcome to Tartarus, little pony. Or as they say, welcome in the staffroom.
EDIT: 12/3/2016 Changed from E to T as I felt that it has started to incline more to that side.
Chapters (6)