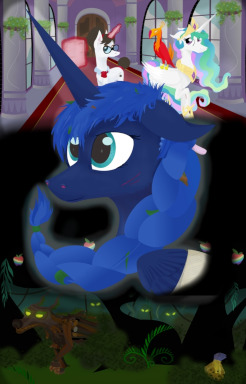 Source
After a surprise attack along her favorite patrol route, Princess Luna crashlands into the Everfree Forest, battered and broken. Outside the walls of the sanctuary of the strange pony that rescued her, the dangerous denizens of the Everfree lurk. Forced to remain in hiding while her sister secretly investigates, how will her life under the mysterious canopy of the Everfree be, without the luxury of her castle?
There is a thin line between a princess and a wild forest pony, thinner than a zap apple stem. Now it's up to Luna not to cross it.
Featured on 4/5/2019 and 7/4/2019 Yay! Thank you so much!
Respective editors and pre-readers tagged under every chapter, the largest portion of the job was done by MV. Furthermore, you can thank him for this great synopsis!
Chapters (10)