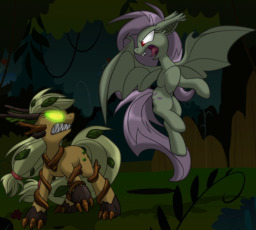 This story is a sequel to Twilight Sparkle: Night Shift
---
We are the dark of the night
We are the sermon of fight
We bring the nightside sacred and wild

Two years after the rise and fall of Decadence, Fluttershy is trying hard to forget what was done to her that night; made all the harder by the strange behaviour of Applejack as she and her family mourn the loss of their beloved Dog, Winona.
When Trixie comes knocking at her door, telling her that Applejack is in trouble, Fluttershy will have to confront a magic even more infectious than anything Decadence put forward.
This story is a spin off/unofficial sequel to the fanfic "Night Shift" by Jawjoe. It is recommended that you read that fic first to get some basic ideas about the world, as this fic may contain spoilers for the events of Night Shift.
Jawjoe's story can be found here; http://www.fimfiction.net/story/57463/twilight-sparkle-night-shift
Chapters (4)