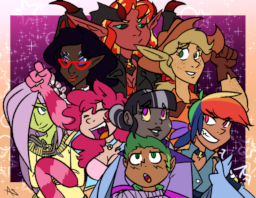 The lilim Celestia has presided over her personal monster realm of Equestria for generations- an oddity among her kind, ruling with an even hand and a will to let her subjects preserve their humanity, should they choose. Even her prized student, Twilight Sparkle, was for the longest time a mere human with incredible arcane potential.
But as her student soon discovers, life in Equestria is in grave danger. Gathering a ragtag group of warriors and monster girls, can she save her home- and maybe even the world while she's at it?
Warning: Considering the source material (the Monster Girl Encyclopedia), expect at the very least some crude humor and a little language. Most likely no outright smut, however.
Chapters (9)