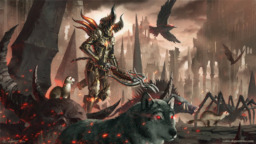 Source
This story is a sequel to Embodiment of Rage
---
Celestia had made her choice: she refused to kill that demon child. Fed-up with the ponies and their xenophobic ways, Julian and Alex leave Equestria in order to search the world of a new place to call home. On the way, they must hone their skills if they are to be ready when the demons invade, whilst also warning the different countries leaders about the demon invasion.
------------------------------------------
This is a direct sequel to Embodiment of Rage, knowledge of that story is required for this one.
Character tags will be added as the story progresses.
Chapters will include Julian and Alex surviving in the wilderness, as well as encounters in various cities and the like.
Art found online, no idea who made it but props to them. Also if anyone could, could you make a cover photo for the fic? Something similar to this one but with a male instead of female (since both characters are guys), I'd really appreciate that.
This is a self-insert/Diablo 3 crossover.
Part of the "Displaced-verse"
Credit to Sketch D. Tail for editing/looking over
Chapters (6)