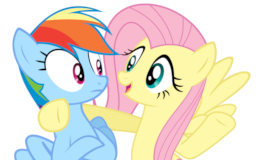 Source
Rainbow, in a reversal of the usual pattern, comes to Fluttershy late at night because she's afraid to be alone. Something she saw on TV scared her so badly that, as much as her pride demands otherwise, she needs somepony to reassure her. The first pony she'd trust for that is her oldest friend.
Just a spur-of-the-moment one shot, getting some feelings out. I saw a scary movie and I couldn't sleep ... so I wrote a story instead of sleeping.

My whole sleep schedule is boned now ... but maybe someone else who saw something scary and can't sleep now will like it.
Chapters (1)