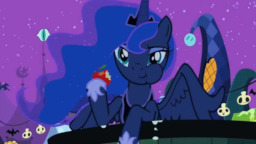 It's been a long millennium, and the Princess of the Night is picking herself up off the ground. She's been getting closer with Celestia, and she's finally learning to rely on her emotional support. They are able to talk more openly than they have in centuries.
But a feeling of sadness remains that Luna hasn't mentioned, one that's haunted her since her foalhood. She denies its existence as best she can, and certainly won't talk to Celestia about it. She doesn't know what it is or why it's there. Perhaps the time has come to find out.
A transgender narrative. Contains depictions of dysphoria; I tried to be as true as possible to my own experience, but some may find it upsetting.
It has been a long time since I have creatively written like this. So, I'm rusty. Please criticize my work if there is something about my writing that you don't like, and don't worry about sparing my feelings. I want to improve and, if you'll pardon the pun, get back on the horse.
Chapters (6)