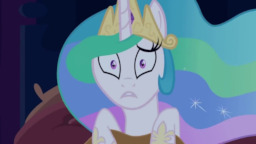 Source
Celestia had always been hardworking, she had always loved her job. She loved being a princess and everything about it- the power, the responsibility even. And most importantly, she loved that everyone adored her.
Celestia loved her sister. But when a pony loves two things, she's bound to protect one over the other. And so, she did. Her sister wasn't "banished to the moon", contrary to common belief; she was dead.
Celestia believed she was a horrible sister, a awful person.
And of course, Luna comes back to tell her that.
Chapters (5)