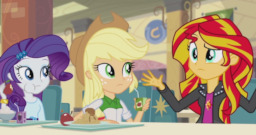 Source
Sometimes you come up with a setting for a story, a setting you really like the premise of. It has all the elements that you'd look for in a story you'd want to read, and you're ready to get invested in that idea. There's just one problem.
There's no story that goes with that setting.
That is what this compilation of stories is. Stories I wrote a prologue, maybe even a chapter or two of, but either have no idea what kind of a story I would want to tell with them, or where they would go in the future. I like the ideas enough that I wanted to share them, but want to let people know ahead of time that I'm not sure if anything will come of them either. Heck, If I get enough feedback I might even be able to be inspired to turn them into full stories, or if someone else has a decent idea for a fic based off of one of these premises, I might even let them use it for themselves.
With that said, those of you who still want to read a weird set of settings like this, I hope you enjoy what there is to be had.
Also all of them involve Sunset Shimmer, because I'm a little obsessed.
Chapters (6)