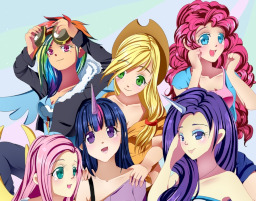 Source
Series of shorts with a Human in Equestria, named Anon, making some time to cuddle with the ponies in Ponyville.
[My first attempt at creating an 'E' rated story. Inspired by 'Dear Spike!' from the author named Closer-To-The-Sun. Hope you guys like it! Also: If any of you want a sequel, let me know.]
P.S. Despite the art cover from pinterest.com, all of the mane 6 are ponies!
Thanks for the Feature!!

Chapters (6)