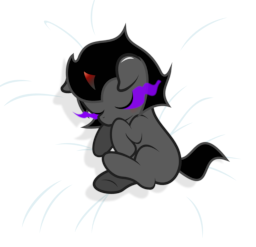 Source
One race's enemy can be another's savior. The Two Sisters never thought to even ask, and history is left to be written by the winners.
In a final effort to escape the prisons underneath the Crystal Kingdom, a race prepares their champion - a tiny child who may not survive to receive his new calling to save his people.
Shamelessly cute sleeping baby Sombra by the uber-talented madpony punzil504.
Book One in Dark Crystal Fires - The Chronicles of King Sombra. This is a complete, standalone story that will be followed by others telling of his life, adventures and reign in this universe. Please be sure to watch us and follow our blog for updates!
Chapters (1)