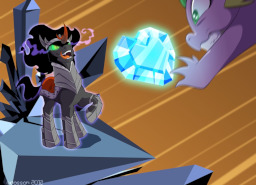 Source
Every side - both good and evil - have their champions and their supporters. Do not presume NO ONE in the Crystal Empire was on King Sombra's side when he returned to reclaim the Crystal Heart and his throne.
The Times Neverwhen series explores "what ifs" - those alternate realities that exist side-by-side with the world of Equestria we are all familiar with. It may share similarities with the series "Dark Crystal Fires - The Chronicles of King Sombra", but it does not share the same reality with it or any others currently in my worlds.
Loosely based on the story arc: Fiendship is Magic, but with a little twist!
We love comments and upvotes. They tell us what you want to see more of when lauding our King of Shadows as we do more writing and world building! Please be sure to check out his other tales. We also encourage you to stalk (watch) us and follow our blog for updates to this and our other currently ongoing stories "The Mad Seeress of the North", "Sombra of the Sith" and "The King's Mice"! Enjoy!
Artwork by the ever-talented Krossan over on Deviant Art. Enjoy =D
Chapters (1)