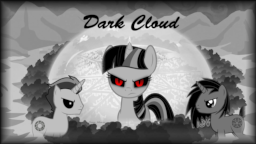 Source
Twilight has been assigned by Princess Celestia to study Dark Magic, something that has almost virtually died out. One day, halfway through her assignment, she receives a surprise visit from the Princess herself, who gives warning that dark and trying times are coming, and returns home. A confused Twilight then begins searching for large problems, both inside Equestria and out. When she discovers a major threat that nopony is prepared for, things quickly go downhill. Equestria seems doomed to total destruction, until a hooded pony appears with an offer. An offer that could either save them from catastrophe, or make things much, much worse...
Story is canon until Twilight becomes an Alicorn.
The idea for this (as well as the title) came from the game, Dark Cloud. I am not affiliated with Sony or Level-5 in any way.
---
Sequel: Dark Genesis
---
Cover by yours truly.
Chapters (19)