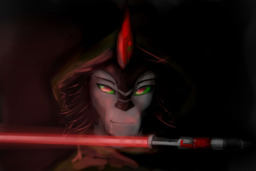 Source
An innocent question about a reference from a newspaper Sombra's consort Nyx pulls back from the future turns into a quest for the King of Shadows to teach the Sith how to properly run a universe of slaves. He has the experience, after all. Unfortunately he just doesn't understand that movies aren't real and what Nyx hopes will be a romantic date out turns into a nightmare in Appleoosa!
Inspired by Star Wars: The Force Awakens
Cover Art by eskerra
We love comments and upvotes! They tell us what you want to see more of when lauding our King of Shadows as we do more writing and world building. Please be sure to check out his other tales. We also encourage you to stalk (watch) us and follow our blog for updates to this and our other currently ongoing stories "The Mad Seeress of the North", "The Birthday Wish" and "Frozen Shadows"! Enjoy!
Chapters (5)