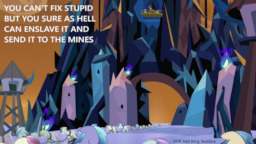 The real truth behind the reasons the Equestrian Princesses banished King Sombra. Also a game of Count the Number of Stupid Ponies in the fic.
Completely random story thought up and written in a few hours. Take it for what it is.
I regret nothing.
Contains Luna x Sombra shipping, rude innuendos, cracks against a race that are entirely true and subtle Monty Python references. Anything else you find distasteful or offensive, that's your problem.
Chapters (1)