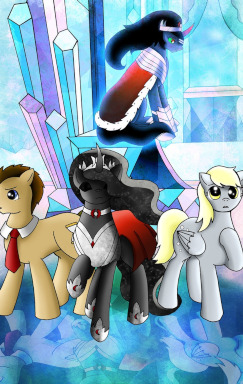 Dr. Whooves is worried. A time disturbance is radiating out from the Frozen North, it's origin a thousand years before his and Derpy's time. He knows from these facts alone it must have something to do with the tomb of the Crystal Empire and more notably, King Sombra. But how does one reach a place time-locked under a hundred million tons of ice? And why does Princess Celestia and Princess Luna insist Sombra's sentence is for eternity? The answers lie with a Marazon TimeWitch who claims she not only knew King Sombra, but was his consort. Can Whooves keep her from killing the Two Sisters long enough to convince her his way of fixing time is better than the alicorn blood she feels she must spill?
The beautiful cover art is done by the very talented writer & artist Pixel_Spark, another dirty Sombra plebe

We love comments and upvotes. They tell us what you want to see more of when lauding our King of Shadows as we do more writing and world building! Please be sure to check out his other tales. We also encourage you to stalk (watch) us and follow our blog for updates to this and our other currently ongoing stories The Mad Seeress of the North, "Sombra of the Sith", "The Prince's New Sweater" and , "The Birthday Wish"! Enjoy!
Chapters (10)