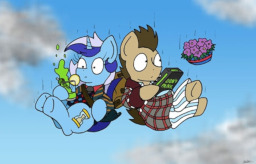 How do you tell King Sombra, the most feared King in all of Equestria, that he has NOT been ruling the Crystal Empire his entire reign, but instead a race of pan-galactic, hyper-intelligent beings running a 10 million year program on the planet have? Worse, how do you follow that up with the news that this is all in pursuit of discovering the question to the answer of Life, the Universe and Everything?
Very, VERY carefully.
An insane cross-over with The Hitchhiker's Guide to the Galaxy.
Chapters (3)