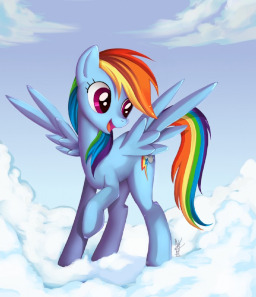 Source
You and Rainbow Dash have been friends since foalhood. Your favorite pastime? Racing. You two have raced hundreds of times. You finally beat her one day, and offers you a reward. Confused by her offer, you accept. Unknown to you, she has something she wants to confess to you. You never expected it was this....
This is my attempt at a second person fic. It's also my first attempt at Romance.
It may be part of a series. I don't know yet. Crowley has really inspired me. This is my attempt to mimic his fantastic work. I may find a way to tie a bunch of stories together. I'm not sure yet.
Alternate Universe tag because, well, I felt like it should be in one.
Chapters (5)