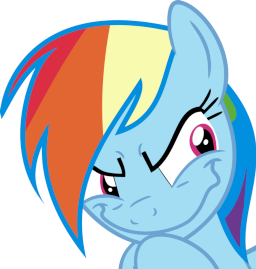 Source
This story is a sequel to Braceface
---
Here it is. Your final exam before graduating from Canterlot High. Fail, and you get held back a year. So much pressure. And you haven't studied a single bit. Neither has your friend, Rainbow Dash. Surprisingly, your relationship status hasn't changed a single bit, despite the events of the past.
So, together, you both pull off the biggest heist, the ultimate endeavor! Only thing is, though....
Will you get Rainbow in the end?
Preread/Proofread by Angel of Destruction and Lightning_striker_03
Rainbow Dash vector can be found here: http://maulidiza.deviantart.com/art/Rainbow-Dash-Evil-Face-529448309
Chapters (1)