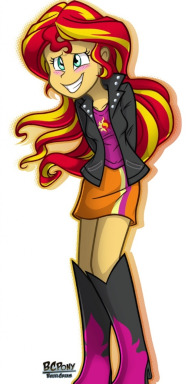 Source
You're the new kid in Canterlot High. After accidentally falling asleep in the janitors closet (you were in there because of a dare given to you by a cyan colored girl with rainbow colored hair), youre stuck inside the school for the night, with no way of getting out until morning.
You manage to survive the night, but only just. This earns you major popularity points, even a few surprises, and thats when you notice a girl with red hair (containing a yellow highlights making her hair look kinda like bacon) has got a thing for you.
How does this go? Only time will tell...
{2nd/second person/reader insert x Sunset Shimmer}
Cover art- http://www.deviantart.com/art/Sunset-Shimmer-492701158
Chapters (5)